The game has changed. The three-pointer is the modern NBA version of artillery in the battle of infantry (power game), cavalry (transition), and artillery (long-range shooting). Limiting perimeter shooters (reduce effective field goal percentage) has become a defensive must. Although their offensive efficiency has waned, the Celtics lead the NBA in defending the 3 point shot. This is no coincidence. During the Brad Stevens era, the Celtics have been perennially among the NBA defensive 3 leaders.
Because of the high efficiency of 3s in the current NBA (about twenty percent greater point per possession), defensive core philosophy becomes

force HARD TWOS

.
Villanova led the NCAA in effective field goal percentage (EFG%) and set records for scoring the three ball en route to winning their second title in three years.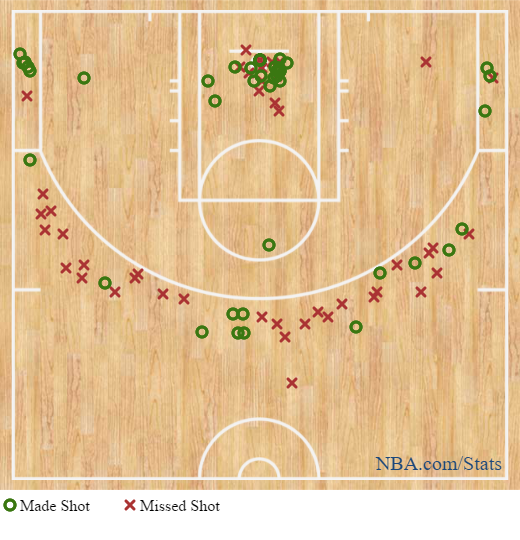 This is "Morey Ball"...versus Pelicans 2/23/17...as the Rockets fired away from the arc and the rim. In 2017, corner 3s had the second highest point per shot (1.16) after shots in the restricted area (1.21).
Corner 3s aren't all good as their location
compromises defensive positioning
.
How can teams contain three-point shooters?
Stephen Shea wrote, "NBA defenses won't intentionally leave a capable shooter open enough to catch and shoot a 3 in rhythm. Instead, NBA offenses have to penetrate, draw help defenders and force defensive rotations to create enough space for perimeter shooters."
Limit corner 3s. The Celtics were among the NBA's best in limiting corner 3s.
Challenge shots without fouling. "According to NBA.com/stats, a "wide open" 3-pointer happens with six or more feet of room between the shooter and the defender. An "open" 3-pointer happens with 4-6 feet of room, a "tightly" contested 3-pointer comes with 2-4 feet of room and a "very tightly" contested 3-pointer comes with 0-2 feet of room." In 2015-16, the Golden State Warriors led the NBA with "43.7 percent on wide-open 3-pointers, 39.4 percent of their 3-point attempts."
Let poorer shooters take more shots.
More average or bad shooters are getting 3 point shots against the Celtics. That translates to poorer results. During the Celtics' walkthrough, coaches emphasized the opponent's key three-point shooters to contain. That night, the opposition went 8-35 on threes. Some of that is luck.
Defend in transition.
Golden State leads the NBA in scoring transition points and EFG% in transition.
The Raptors surrender the fewest points per possession in transition. This is a major improvement from last years 1.31 points per possession. Usually, this reflects a reduction in threes.
Do not help. Shea calls it

the "minimal help" model

. Teams that disallow catch and shoot threes are among the leaders in defensive EFG%. In the NBA (not an NBA court above), the open corner three is a high percentage shot with a high EFG%. Shea contrasts this with the

"swarming defense" model

, collapsing on the post, looking to force turnovers. He notes that the Bucks used this successfully in 2014-2015.
Be aware of offensive intent

(drive and kick, above). Spurs Assistant Coach Etorre Messina runs this drill emphasizing dribble penetration and passing to three point shooters. Defenses need to understand NBA spacing and look to pressure the ball and be aware of the likely passing options/lanes. Corner 3s (below the break) are shorter shots leading to higher percentages.
Close out aggressively...but don't foul. The "Vegas Closeouts" drill (above) has become popular. I am unaware of closeout metrics on three-point defense (I'm sure they exist).
New defensive techniques (X-out) have emerged to combat three point shooting. Basketball Immersion shares, "a defensive x-out is when two players on the weak side of the floor switch checks in a defensive recovery situation."
Teaching Einsteinian relativity theory might be easier with young players.
From Basketball Immersion video above.
Where possible, study opponents 3 point origins (e.g. transition, dribble penetration, skip passes, hook/back passes).
Other ancillary techniques include getting into the passing lanes preventing catch-and-shoot threes, c
ontesting shots without fouling (fly bys), and a
wareness of specific sets (e.g. America's Play, Weakside inbound BOB, Elevator screens)...that will almost always force switching.
One version of "America's Play."
I call this "weakside flat" where teams 'overhelp' on the post and the weakside corner becomes available out of the 2-3 zone coverage.
GSW Elevator actions.
Offenses have become so well-designed and skilled that defenses sometimes are simply at their mercy. Fortunately, youth coaches rarely face superior perimeter offense.